The Bridges of Madison County - Iowa's Covered Bridges Scenic Byway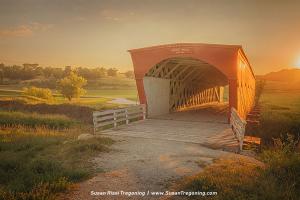 When you hear someone refer to "The Bridges of Madison County" I bet your first thought is the movie with Clint Eastwood and Meryl Streep. If you are an avid reader, it's the best-selling novel that preceded the movie by a few years. Many people are not aware that those beautiful covered bridges Clint's character went to photograph are located in a picturesque area of Iowa less than an hour drive from Des Moines.

The official name for this area is Covered Bridges Scenic Byway. It is one of Iowa's newest scenic byways. At 82 miles long, this byway is packed with beautiful natural areas and unique destinations like John Wayne's Birthplace. There's enough to see and do in Madison County to easily fill a 2 or 3 day weekend.
​
If you are like me, you may need to make a second trip just to see and experience it all!

Please click the button to continue reading this blog post...