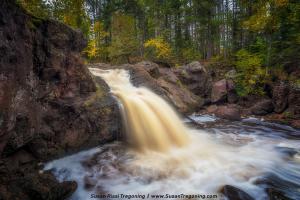 One of my favorite places to see waterfalls in northwest Wisconsin is Amnicon Falls State Park. Located 15 miles east of Superior, Wisconsin near Lake Superior, it is one of the easiest places to visit waterfalls on the Lake Superior Waterfall Tour.

This is a small park, with only 2.4 miles of hiking trails. The best part of the trail, a 1/4 mile easy loop, is right off the parking lot. This is where you will find four named waterfalls, three smaller unnamed falls and a historic bridge. None of these waterfalls are very large but they are all very picturesque. The park is small enough to see the highlights in under an hour; but, if you are a true waterfall lover, bring your lunch, you could easily spend most of a day.

Please click the button to continue reading this blog post.