December 1st, 2018
Whether it's an over the top home display like in National Lampoons Christmas Vacation or the professional wonderland of Walt Disney World, nothing gets me in the Christmas spirit better than a good ole Christmas light display!

I grew up in the small town in southern Illinois that is known for Candy Cane Lane so a trip to "see the lights" is something I just HAVE to do at least once a year. Call it an addiction if you must, but I've gone as far as Niagara Falls, Canada not for that famous waterfall but to see the "Winter Festival of Lights".

So, when we pulled into Duluth, Minnesota back in late summer and I immediately began to see the requests on social media for volunteers to set up for the Bentleyville "Tour of Lights", my excitement started to build. Not only would I have a Christmas light display in town, but it was going to be in walking distance!

The Bentleyville "Tour of Lights" opened on November 17th, I was there opening night and twice just this week. I never expected anything as elaborate and beautifully done as this! It really is magical! With every visit, I'm in awe and manage to see something new.

Please click the button to continue reading this post.
November 29th, 2018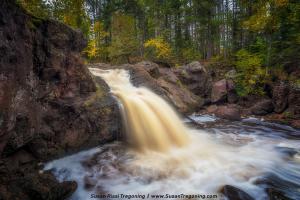 One of my favorite places to see waterfalls in northwest Wisconsin is Amnicon Falls State Park. Located 15 miles east of Superior, Wisconsin near Lake Superior, it is one of the easiest places to visit waterfalls on the Lake Superior Waterfall Tour.

This is a small park, with only 2.4 miles of hiking trails. The best part of the trail, a 1/4 mile easy loop, is right off the parking lot. This is where you will find four named waterfalls, three smaller unnamed falls and a historic bridge. None of these waterfalls are very large but they are all very picturesque. The park is small enough to see the highlights in under an hour; but, if you are a true waterfall lover, bring your lunch, you could easily spend most of a day.

Please click the button to continue reading this blog post.
November 29th, 2018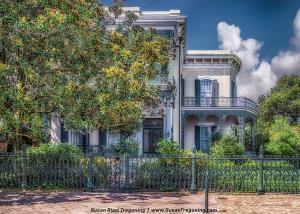 Following the Louisiana Purchase in 1803, Americans started to arrive in New Orleans and wanted a neighborhood to call their own. It took thirty years to happen but in 1826 when Jacques Livaudais failed to show up for divorce court preceding he lost ownership of the family plantation to his wife. In 1832, she moved home to France and sold the property to a group of businessmen that saw this land as American's answer to the French and Creole dominated Vieux Carre. They parceled it off into a grid of 80 city blocks and it became part of the Village of Lafayette.

Wealthy Americans flocked to build mansions here. With plenty of space each mansion was surrounded by huge lawns and gardens some spanning full city blocks which earned the area its nickname the "Garden District". That nickname stuck and the Garden District became its official name when the neighborhood was annexed into New Orleans in 1852.

While the lawns are no longer as grand as they once were, the mansions are still just as impressive as they were the day they were built. A visit to the Garden District offers a chance to see an entire neighborhood of preserved mansions from the 1800s and displays a melting pot of architectural styles that were "new" for the time period in which they were built.

The Garden District was recognized for its architectural and cultural significance in 1972, when it was listed on the National Register of Historic Places, and then again in 1974, when it was declared a National Historic Landmark. Most recently, the Garden District was designated as a Historic District in June 2007 by the Historic District Landmarks Commission.

Whether you choose to take a guided walking tour from one of the many local tour companies or just do it yourself, a visit to New Orleans is incomplete without a visit to the Garden District.

Please click the button to continue reading this blog post.
November 29th, 2018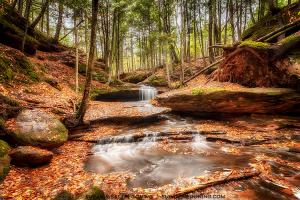 In 2018, Wisconsin designated the road through the Bayfield Peninsula as Wisconsin's fourth scenic byway. Named the Wisconsin Lake Superior Scenic Byway, this 70 mile segment of State Highway 13 winds its way around the South Shore of Lake Superior and provides sweeping scenic views of beautiful forests, pristine beaches and the "big lake" itself. Along the way you will visit quaint harbor towns full of historic architecture, historic fishing villages, small orchards and fruit farms and the home of the Red Cliff Band of Lake Superior Chippewa. Bayfield, at the center of the byway, is the gateway to the Apostle Islands National Lakeshore and the Gaylord Nelson Wilderness Area.

Known as a fantastic summer destination, I decided to visit in autumn to experience the Bayfield Peninsula in a way that so many visitors never get a chance to do. It is a much quieter time with most of the tourist destinations closed but it's a great time to "get back to nature" and the fall colors are off the wall!

Please click the button to continue reading this blog post.
November 29th, 2018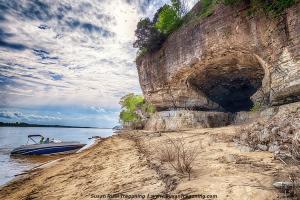 Sitting along the banks of the Ohio River in a quiet little town in southern Illinois is a cave called Cave-In-Rock. The first recorded history of Cave-In-Rock was in 1739 by French explorer M. DeLery who mapped the limestone cave and named it, "caverne dans Le Roc" which after being translated into English is still the name it bears today. Although, much of its history is unsubstantiated, the local folklore that surrounds this cave started almost immediately after its discovery and tells a story of river boat pirates, bandits, fugitives, and murderers.

Please click the button to continue reading this blog post.
November 29th, 2018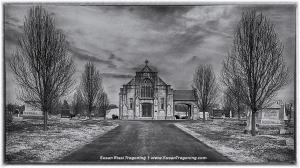 I have always loved this beautiful old chapel. As early as four or five years old, I can remember staring out the car window in excitement and maybe with just a touch of trepidation as I waited to get my first glimpse of it anytime my parents drove down Route 37. It became even more interesting to me when I discovered that it was built by an ancestor of mine and that the two most prominent tombstones on either side are ancestors too.

I have been planning this image for a long time. It could be called, "Memories of my Youth", for when cemeteries were scary places to visit. In my mind's eye as a five year old, this is what the Goddard Chapel looks like...

Please click the button to continue reading this blog post.
November 29th, 2018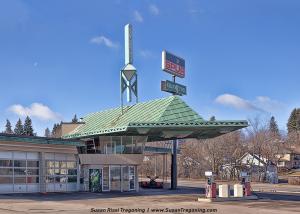 Only a 30 minute drive west of Duluth, Minnesota on the edge of the St. Louis River is a little logging town in the North Woods called Cloquet. This town began as a group of small settlements around three sawmills: Shaw Town, Nelson Town and Johnson Town and today it has a population of a little over 12,000 people.

Many people would be very surprised to learn that this quiet little town has a unique tie to America's greatest architect, Frank Lloyd Wright. This is the location of the only functioning gas station ever designed and built by Mr. Wright. It is also the only piece of Wright's Broadacre city project ever to be constructed.

Please click the button to continue reading this blog post.
November 29th, 2018
I have visited many botanical gardens around the United States but Hawaii Tropical Botanical Garden is hands down my favorite! This is a pristine 40 acre rainforest garden. While this one of a kind garden contains over 2,000 species of tropical plants; it is so much more than just a botanical garden. It is also a stunning tropical nature preserve and sanctuary that features a multi-tiered waterfall, several streams, and an amazingly beautiful ocean front walk along Onomea Bay. This garden is acclaimed as one of the most beautiful locations in Hawaii; a distinction I think it well deserves.

The adventure begins 2 miles before you even reach the Garden…

Please click the button to continue reading this blog post.
November 29th, 2018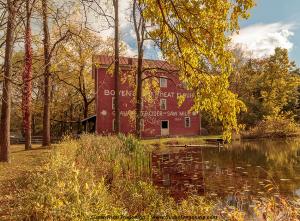 Step back over 160 years in time at the beautiful Historic Bowens Mills. Once a thriving community, farmers brought their grain here to the 1854 grist mill to be milled into flour and meal. Visit the antique apple cider press that sits ready for another fall apple season.

​Located in the western portion of Michigan, almost exactly halfway between Kalamazoo and Grand Rapids, Historic Bowens Mills is in the Yankee Springs area of Gun Lake. Today, it is a second generation family-owned and operated Michigan state historic site whose mission is to preserve this 19 acre historical park and the history of Yankee Springs Township and Barry County for future generations to learn from and enjoy.

Please click the button to continue reading this blog post.