November 29th, 2018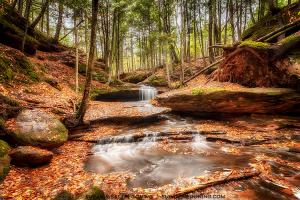 In 2018, Wisconsin designated the road through the Bayfield Peninsula as Wisconsin's fourth scenic byway. Named the Wisconsin Lake Superior Scenic Byway, this 70 mile segment of State Highway 13 winds its way around the South Shore of Lake Superior and provides sweeping scenic views of beautiful forests, pristine beaches and the "big lake" itself. Along the way you will visit quaint harbor towns full of historic architecture, historic fishing villages, small orchards and fruit farms and the home of the Red Cliff Band of Lake Superior Chippewa. Bayfield, at the center of the byway, is the gateway to the Apostle Islands National Lakeshore and the Gaylord Nelson Wilderness Area.

Known as a fantastic summer destination, I decided to visit in autumn to experience the Bayfield Peninsula in a way that so many visitors never get a chance to do. It is a much quieter time with most of the tourist destinations closed but it's a great time to "get back to nature" and the fall colors are off the wall!

Please click the button to continue reading this blog post.
November 29th, 2018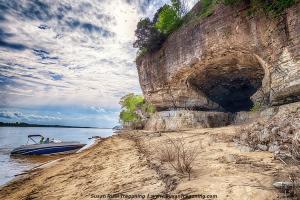 Sitting along the banks of the Ohio River in a quiet little town in southern Illinois is a cave called Cave-In-Rock. The first recorded history of Cave-In-Rock was in 1739 by French explorer M. DeLery who mapped the limestone cave and named it, "caverne dans Le Roc" which after being translated into English is still the name it bears today. Although, much of its history is unsubstantiated, the local folklore that surrounds this cave started almost immediately after its discovery and tells a story of river boat pirates, bandits, fugitives, and murderers.

Please click the button to continue reading this blog post.
November 29th, 2018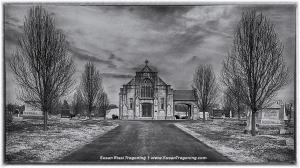 I have always loved this beautiful old chapel. As early as four or five years old, I can remember staring out the car window in excitement and maybe with just a touch of trepidation as I waited to get my first glimpse of it anytime my parents drove down Route 37. It became even more interesting to me when I discovered that it was built by an ancestor of mine and that the two most prominent tombstones on either side are ancestors too.

I have been planning this image for a long time. It could be called, "Memories of my Youth", for when cemeteries were scary places to visit. In my mind's eye as a five year old, this is what the Goddard Chapel looks like...

Please click the button to continue reading this blog post.
November 29th, 2018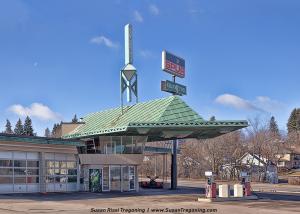 Only a 30 minute drive west of Duluth, Minnesota on the edge of the St. Louis River is a little logging town in the North Woods called Cloquet. This town began as a group of small settlements around three sawmills: Shaw Town, Nelson Town and Johnson Town and today it has a population of a little over 12,000 people.

Many people would be very surprised to learn that this quiet little town has a unique tie to America's greatest architect, Frank Lloyd Wright. This is the location of the only functioning gas station ever designed and built by Mr. Wright. It is also the only piece of Wright's Broadacre city project ever to be constructed.

Please click the button to continue reading this blog post.
November 29th, 2018
I have visited many botanical gardens around the United States but Hawaii Tropical Botanical Garden is hands down my favorite! This is a pristine 40 acre rainforest garden. While this one of a kind garden contains over 2,000 species of tropical plants; it is so much more than just a botanical garden. It is also a stunning tropical nature preserve and sanctuary that features a multi-tiered waterfall, several streams, and an amazingly beautiful ocean front walk along Onomea Bay. This garden is acclaimed as one of the most beautiful locations in Hawaii; a distinction I think it well deserves.

The adventure begins 2 miles before you even reach the Garden…

Please click the button to continue reading this blog post.
November 29th, 2018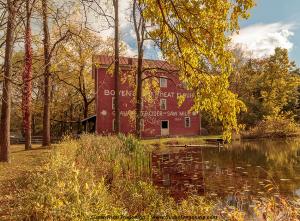 Step back over 160 years in time at the beautiful Historic Bowens Mills. Once a thriving community, farmers brought their grain here to the 1854 grist mill to be milled into flour and meal. Visit the antique apple cider press that sits ready for another fall apple season.

​Located in the western portion of Michigan, almost exactly halfway between Kalamazoo and Grand Rapids, Historic Bowens Mills is in the Yankee Springs area of Gun Lake. Today, it is a second generation family-owned and operated Michigan state historic site whose mission is to preserve this 19 acre historical park and the history of Yankee Springs Township and Barry County for future generations to learn from and enjoy.

Please click the button to continue reading this blog post.
November 29th, 2018
With my interior design background, I always take a special interest in any unique and interesting architecture. The Painted Churches of the Big Island certainly fall into that category. ​If you are an architecture and/or art lover, these churches are definitely a must see. Be aware, these churches don't give away any of their secrets on the exterior, it's necessary to go inside to discover their beauty!

Funny story, on one of our visits to St. Benedict's, my husband was out in their amazing garden mostly trying hard to stay out of my way. :-D He was enjoying the quiet and the birds when a car hurriedly wheeled into the parking lot. This guy jumped out of the car and loudly proclaimed, "I'm not sure why they call this the Painted Church, it's just white!" Before my husband could tell him to go inside, he was back in his car and had sped away.

Please click the button to continue reading this blog post.
November 29th, 2018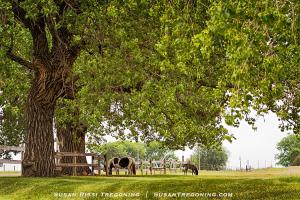 I have a confession to make; I was 50 before I read the Little House on the Prairie series by Laura Ingalls Wilder. I can hear the collective gasp of all the shocked women that are currently reading this post….blasphemy, I KNOW! In my defense, when I was about the age when all the other little girls were madly absorbing these books, playing "Holly Hobbie" dress up and dreaming about being Laura, my local librarian marched me over to the adult section of the town's public library and handed me an Agatha Christie novel. I never stepped foot in the children's section of the library again.

When I look back, I'm really not sure what I was doing when the television series came out because I didn't watch that either. Oh, I saw an episode or two but without the background of the books; I just really didn't get it. Maybe, it was just too "girly" for me; I hated pink, didn't play with dolls and was the only girl in my neighborhood with a complete football uniform, shoulder pads and all.

Needless to say, my husband was more than a bit skeptical when I tossed out the idea of driving up to DeSmet, South Dakota, for a "Little House on the Prairie" weekend.

Please click the button to continue reading this blog post...